The Beatles' London, 1965-66
You will need to install Google Earth to use the Google Earth 3D map links below.

The Asher's house, 57 Wimpole Street
Google Earth | Multimap
Paul McCartney lived here between 1964 and 1966. His room was on the top floor, overlooking Browning Mews. Peter Asher's room was next door, overlooking Wimpole Street. Dr Asher's surgery was on the ground floor. The music room where McCartney worked on his songs, both alone and with John Lennon, was in the basement. Wimpole Street is a short walk from Harley Street in Marylebone. Not as posh as Belgravia, and with rather more red brick, Marylebone has broad, quiet streets off which run hundreds of quiet mews and yards. Elizabeth Barrett Browning lived at number 50.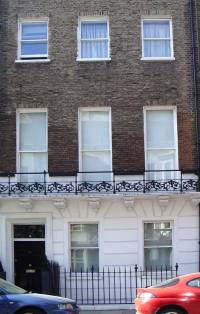 57 Wimpole Street

Indica Gallery, 6 Mason's Yard
Google Earth | Multimap
Co-owned by John Dunbar and Barry Miles, and a regular haunt for Paul McCartney. John Lennon also visited frequently, and it was here that he bought the copy of The Tibetan Book of the Dead which inspired "Tomorrow Never Knows". Eric Burdon of the Animals: "I maintained a flat in Dalmeny Court in London's West End, a stone's throw away from the Royal Palace. I was right above the Indica Gallery" (Don't Let Me Be Misunderstood: a memoir, )
John Riley's flat, 1 Strathearn House, Strathearn Place, W2
Google Earth | Multimap
If John Riley was the man who introduced John Lennon and George Harrison to LSD, then it is likely that it happened here. Riley's dental surgery was in nearby Edgware Road.
The Scotch of St James, Mason's Yard
Google Earth | Multimap
The Bag o'Nails, Kingly Street
Google Earth | Multimap
The Ad Lib, corner of Leicester Place and Lisle Street
Google Earth | Multimap
These three nightclubs were popular amongst the "trendiest" celebrities in 1965-66. The Ad Lib was the first to cater to pop musicians, playing only black American music - soul and blues: the Ad Lib "was just a great club: great dance, pull birds, chat with unusual people." (McCartney, Many Years From Now, p. 134. By 1966 the Ad Lib was somewhat out of favour - "it dwindled... and the next one was the Scotch of St James" (Ibid). Andrew Loog Oldham described the Scotch of St James: "You'd knock at the door and be auditioned through a peep-hole. Once in you'd travel downstairs via the twisting staircase... The Beatles, the Stones, the Yardbirds, Eric Clapton, Long John Baldry, Keith Moon, the Searchers all starred in the main room on their nights off... Lennon and McCartney, Jagger and Richards and I and our ladies would sit back in a dark corner and smoke and gloat." (2Stoned, p255-6) Barry Miles: "The club was decorated with panels of Scots tartan but was so dark that the decor was unimportant" (Many Years From Now, p.140).
Abbey Road Studios, St John's Wood
Google Earth | Multimap
The Beatles recorded almost exclusively at Abbey Road throughout their career. They were based most often in Studio 2.
Paul McCartney's house from March 1966, 7 Cavendish Avenue, St John's Wood
Google Earth | Multimap
McCartney bought this house early in 1965, but it needed extensive renovation. He was able to walk to Abbey Road from here in a matter of minutes, and hence was often the first Beatle to reach the studio.
Barry Miles' flat, 15 Hanson Street, Fitzrovia
Google Earth | Multimap
Fitzrovia is like a more genteel, less aggressively sexy Soho, on the opposite side of Oxford Street. Five minutes walk from one of the busiest streets in London, there are streets lined with tall Victorian buildings which, even now, have little motor traffic. There are small restaurants, galleries, pavement cafés and clubs, and almost every building seems to have a blue plaque upon it. Artists, actors, writers and other assorted Bohemians from Tommy Cooper to Samuel Beckett have made their homes here. It was presumably this atmosphere which appealed to Barry Miles when he moved here in 1964. This was a favourite hang-out for Paul McCartney in the 1960s.
Donovan's flat, Maida Vale
If you know exactly where Donovan's Maida Vale flat was in 1966, please contact me.
George Harrison's house (from 1965)
Google Earth | Multimap
Approximate locations of Kinfauns, Esher - contact me if you know better.
John Lennon's house, Weybridge
Google Earth | Multimap
Kinfauns, Esher.
Home
Download a preview of the book.
Help me write this book!
I need help with interviews, references, photographs and illustrations. Please help!
About the Author
How to contact the author, and a short biography
Discography
Influences on Revolver
Recommended Books
Influences on Revolver
Links
Other websites with information on Revolver